Details
Bedrooms: 2.0
Sleeps: 6.0
Bathrooms: 3.0
Square feet: 2216
Amenities
Resort
"The Desert Spa" 30,000 Ft Destination Spa
Beachfront on Medano Beach
Business Center Hospitality Room
Concierge Service
Fitness Center
Free Tennis Courts
Infinity Pools with Swim-up Bar
Kids Club Program
Medical Service
Restaurants on Property
Room Service
Interior Features
Complete stove with oven
Cookware and kitchen utensils
Dishwasher
DVD and Stereo with CD player
Garbage Disposal
Maid Service
Microwave
Side-by-side refrigerator with icemaker
This villa is a non-smoking unit
Washer/Dryer
Wet bar on terrace
Wired/Wireless Internet (Free)
Zoned central air-conditioning
Granite tabletops
Pillow Top Beds
Exterior Features
Villa 1208 testimonials
I really enjoyed myself and am eagerly looking forward to my next visit. My family had the best vacation of their lives, and I got to eat some really great food and drink delicious sangria. I highly recommend this place to all interested parties.
The place was really so beautiful, we loved it so much. Thanks for letting us stay in your villa we have created some memorable moments here. Thanks once again. We will sure come back again and ask for 1208 villa. And Yvonne was so great she does an immaculate job.
My wife and I could not have asked for a more beautiful villa to spend our 10 year anniversary at than in Bob and Sue's Villa 1208 at the Villa La Estancia! Every detail about their villa was phenomenal!! We enjoyed cooking meals in the kitchen and eating them outside in the warm August breezes. Their housekeeper, Yvonne, ws very nice and did a great job of cleaning things and keeping everything tidy. We loved hanging out at the pool every day and got to "ride out" our first tropical storm, Julio. I already told my wife that I could see us coming back to Villa 1208 every year!!! Thanks again! Todd and Nanette Seattle, WA
Our first time in Cabo, and your accommodations certainly spoiled us! We really enjoyed the activities here as well as Vill del Palmar which was great for the kids. We thank you! Tom and Jodie
Weather was cool for the first part of the week but got very nice by the end of the week. The waves were huge this week reaching the wall on several occasions. The unit was great and in great shape. Sad to see new hotel on the beach but that's progress. This will be a big city soon! Looking forward to coming in September and December!
Floorplan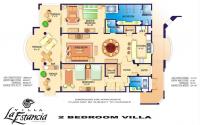 Click to enlarge
Villa 1208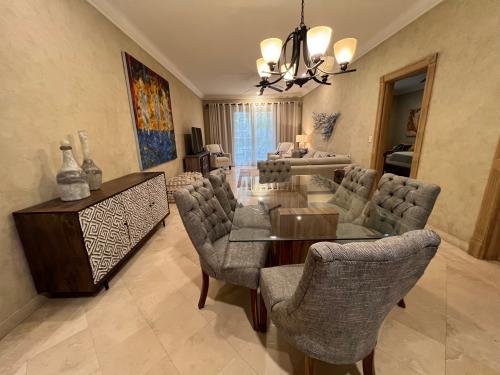 Vacation in style at the Cabo Villa La Estancia Resort with picturesque views of the Sea of Cortez. The resort is located in Cabo San Lucas and is fully equipped with luxury accommodations for your entire family. Get yourself a massage in the 30,000 square foot spa, or hang out in the two infinity pools or 5 ocean view hot tubs, there is no shortage of relaxation. The kids will be thrilled with our popular kid's club that has plenty of activities and parties created especially for them. If you love to golf, you can have the resort schedule your tee time at one of the nearby world class golf courses. When you're ready to head out on the water, you can take a peek under the sea in a glass bottom boat or book a whale watching tour to see the magnificent animals during the migratory season. The Cabo Villa La Estancia golf resort is ready to host you on your next Mexico vacation.
Villa 1208
: This uniquely custom decorated and furnished condo features 2,240 square feet of luxurious comfort and livability. Pillow top beds, marble floors, 10 foot ceilings and natural traditional handmade furnishings compliment this stunning villa. Each suite within the villa has its own ROKU LCD TV/DVD (and DVD library of movies), iPod stereo dock and free secure wireless/wired internet access. There is an internet enabled BluRay DVD player in the main living area. The Master suite features a King bed with adjoining jetted Jacuzzi tub and dual sink Master bath that can be separated from the spacious master suite with sliding panel doors for privacy. The main living room features a large and cozy sectional. There is NO sleeper sofa. There is a self inflating E-Z Aero bed available (
https://youtu.be/IFxcM11yRGo
) for additional bedding requirements on request (fee).
Cordless phones that feature FREE international calling to and from the villa help keep you connected as well. Secure dedicated WiFi in the villa will keep you connected. The well appointed gourmet kitchen features all the tools, countertop appliances and conveniences you would expect in a luxury home, including a double door refrigerator with in-door purified water and ice. On the massive veranda you will enjoy an intimate 2 person dinette as well as a custom made leaded glass family size table with multiple chairs. A pair of lounge chairs provides an open air sanctuary for sun bathing, relaxing or reading. There is even a view of the bay and Lands End from the lounger area. A custom wet bar with mini refrigerator provide a spot to stash cold drinks within easy reach. The new BBQ will provide for enjoying a grilled version of your catch-of-the-day. Relax, enjoy and forget about the real world when you stay in Villa 1208 at the Cabo Villa La Estancia Resort.
---
Request more information