Details
Bedrooms: 2.0
Sleeps: 8.0
Bathrooms: 3.0
Square feet: 2216
Amenities
Resort
"The Desert Spa" 30,000 Ft Destination Spa
Beachfront on Medano Beach
Business Center Hospitality Room
Concierge Service
Fitness Center
Free Tennis Courts
Infinity Pools with Swim-up Bar
Kids Club Program
Medical Service
Restaurants on Property
Room Service
Interior Features
Complete stove with oven
Cookware and kitchen utensils
Dishwasher
DVD and Stereo with CD player
Garbage Disposal
Maid Service
Microwave
Side-by-side refrigerator with icemaker
This villa is a non-smoking unit
Washer/Dryer
Wet bar on terrace
Wired/Wireless Internet (Free)
Zoned central air-conditioning
Granite tabletops
Exterior Features
Villa 1707 testimonials
We thoroughly enjoyed our first trip to Cabo. The accommodations were exceptional--loved 1707--view was breathtaking from the balcony. Did not really realize the topography of the area--were very surprised by the mountain, desert, and sea views. Loved our panga ride around Lands End. My husband and I had the king bedroom and bath and were very comfortable. The main living area was awesome except for the fact that the dishwasher was broken--discovered it by a wet kitchen floor when we arrived. We called maintenance and they came immediately, but the dishwasher was not useable. It ended up not being a problem because of the every other day maid service--she washed the dishes for us. The couple we were with had the second bedroom and I think they were just a little disappointed after seeing our accommodations with the king bedroom and bath. Tried some of your recommendations for restaurants and absolutely loved Salvatore's--great food at great prices. Asked the concierge for a recommendation for an authentic Mexican restaurant with reasonable prices and found Maria Coronas to be an excellent choice. Spent Valentine's dinner at Ruth's Chris (our favorite American dining spot) and were not disappointed as usual--food and service there is always replicated. Spent a lot of time at the beach bars (The Office, Billygans, and Mango Beach Deck)--great Cabo atmosphere. Also liked shopping in the marina area. We feel that the $7 cab ride to the mall area was well worth the expense--walking the streets with occasional sidewalks was scary at times. Thanks for allowing us to use your condo--overall our first experience in Cabo was very memorable. Sincerely, Beth M
Floorplan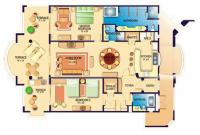 Click to enlarge
Villa 1707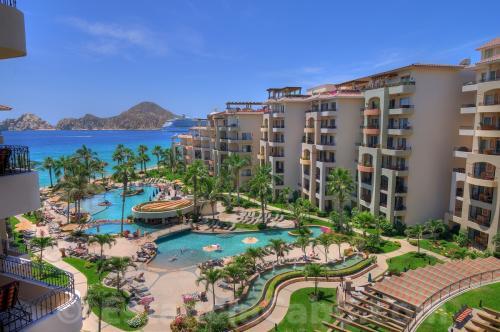 When you take your next Mexico vacation, stay in the top rated Villa La Estancia Beach Resort & Spa Los Cabos. The luxury resort offers the finest amenities that will make you feel like royalty in your new home away from home. This property is much superior to other Cabo San Lucas timeshare resorts because each and every villa is unique, privately owned, and more spacious. Don't settle for cramped rooms with only one bathroom when you could be experiencing luxury at the Villa La Estancia Beach Resort & Spa Los Cabos.
When you visit Villa La Estancia, you will have the most spectacular view of the Sea of Cortez from anywhere in the resort. Highlight amenities include a state-of-the-art fitness center and tennis courts in the 30,000 square foot spa on-site, the fine dining La Casona Restaurant, and an on-site gourmet supermarket and deli. Of course, the center of attention are the two vast infinity pools and 5 ocean view hot tubs that have daily family activities organized by the friendly staff. If that isn't enough, you can venture out and tee off at a world class golf course, dive under the water and go snorkeling with the colorful sea life, race two retired America's Cup sail boats, or witness the beauty of whales while they are migrating south. The abundance of amenities and local activities is what sets Villa La Estancia apart from the crowd.
Villa 1707: This is not your typical Cabo San Lucas timeshare resort. Villa 1707 is a privately owned, fully furnished, custom designed, 2 bedroom, 3 bathroom villa. You will have a king size bed in the master suite, 2 queen size beds in the second bedroom, and 3 full bathrooms including the master bath with a private jetted Jacuzzi tub. All three beds have pillow top mattresses to help you sleep like a baby while on vacation. After you shop at the on-site supermarket, you can come back to your fully equipped kitchen with granite countertops and prepare a meal for the family. A large dining area with table settings for 6 and spacious living room are great places to relax when you aren't lounging by the pool. The villa is located on the 7th floor with great ocean views from your private balcony that is fully furnished. The Villa La Estancia Beach Resort & Spa Los Cabos is the best place for your next family vacation, and bring everyone because Villa 1707 can sleep up to 8 guests comfortably.
---
Request more information