Details
Bedrooms: 2.0
Sleeps: 8.0
Bathrooms: 3.0
Square feet: 2200
Amenities
Resort
"The Desert Spa" 30,000 Ft Destination Spa
Beachfront on Medano Beach
Business Center Hospitality Room
Concierge Service
Fitness Center
Free Tennis Courts
Infinity Pools with Swim-up Bar
Kids Club Program
Medical Service
Restaurants on Property
Room Service
Interior Features
Complete stove with oven
Cookware and kitchen utensils
Dishwasher
DVD and Stereo with CD player
Garbage Disposal
Maid Service
Microwave
Side-by-side refrigerator with icemaker
This villa is a non-smoking unit
Washer/Dryer
Wet bar on terrace
Wired/Wireless Internet (Free)
Zoned central air-conditioning
VLE 3307 testimonials
Your low rates surprised us (we go to Cabo often and usually use Orbitz or other such sites.) On this trip we booked through you at way lower rates and our suite had the best location of any of our trips! Thank you. Shelley Sugar Land, TX
Just wanted to say thanks for all of your help with the April Cabo trip. We made it back to town late Friday night after one of the best weeks our family has ever had. The property at Villa La Estancia is amazing. The room was a perfect size and the balcony had amazing views. We didn't use the kitchen as much as we should have because we were busy working our way through the list of restaurants you recommended. We made it to Villa Serena, Mi Casa, Salvatore's (for lasagna night), La Panga and our favorite - La Golondrina. We ran out of time to get the vouchers you recommended, but will make sure we do that next time. You were also right about the staff - everyone was very friendly. In fact the only issue we had all week was with a taxi driver who was overcharging for a return trip from the city, but the bell man stepped in and solved the matter immediately. We also had maid service every other day which was a great surprise. We were able to make use of the sister properties almost every day, either for tennis, mini golf, the spa or to check out the other restaurants on site. They were very nice as well, but I would have to say they don't compare to VLE. Lastly, the Suburban service you recommended was awesome. Lucas was our driver. Our flight was about 30 minutes late getting in after some mechanical issues in Phoenix, but he was waiting with our sign outside as promised. The cold water and Dos XX were another pleasant surprise. Lucas served as our personal tour guide on the trip in giving us more tips and some great background on the city. Not sure when we'll be able to get back, but I can't imagine doing Cabo without going through you. We've already recommended your service to our friends and will continue to do so. Just make sure to keep a place ready for us. Thanks again. Dean & Julie
Villa Del Arco was perfect for our anniversary celebration. The grounds were beautiful, the pools were perfect and the view and location cannot be beat. Thanks to DestinationCabo.com for expert assistance in selecting the right resort. Plus they know everything about what to do and where to eat! Totally cool. Tricia
I really enjoyed myself and am eagerly looking forward to my next visit. My family had the best vacation of their lives, and I got to eat some really great food and drink delicious sangria. I highly recommend this place to all interested parties.
Our Cabo vacation at Villa la Estancia far exceeded our expectations. While I am always nervous about accommodations in foreign countries, Bob from EstanciaCabo.com was quick to answer all my questions and calm my fears. Check in at the hotel was a breeze, and the staff could not have been more helpful! The room was very clean, spacious, and beautiful. Additionally, the grounds of the hotel were pristine. Not a day went by when the staff wasn't constantly cleaning, trimming, and polishing. Estancia is the perfect distance from town - a 3 minute cab ride or short walk along the beach. We could not have been happier with our experience! We were so happy with Estancia that we are having all our guests stay there for our June 2011 wedding, and we will certainly be using EstanciaCabo.como for all of our reservations! Thank you so much, Patrick and Donielle (St Louis, MO)
Floorplan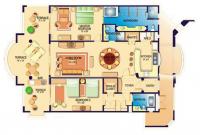 Click to enlarge
VLE 3307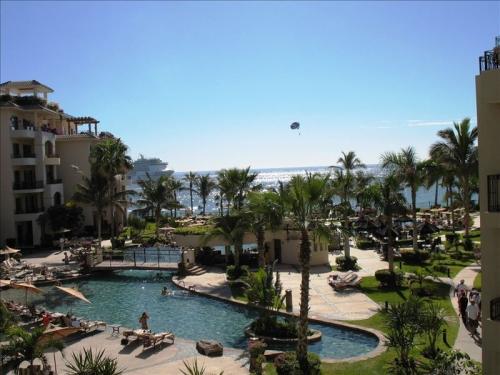 This is a magnificent dual suite unit with comfortable upscale furnishings. Both the master and second bedroom are tastefully decorated and have full bathrooms (large jacuzzi tub in master) plus a full bath in the main great room. The kitchen is fully equipped and has new granite. There are large flat screen TV's in each room along with DVD players and USA satellite in the main living area as well as a USA telephone for FREE incoming and outgoing calls to the US. Eight people can be accommodated easily utilizing the two queen beds, one king and one convertible bed.
The large balcony gets the morning sun and is perfect for lounging. There is a large granite table that seats up to eight, a wet bar with refrigerator, gas grill and chaise lounges.
---
Request more information